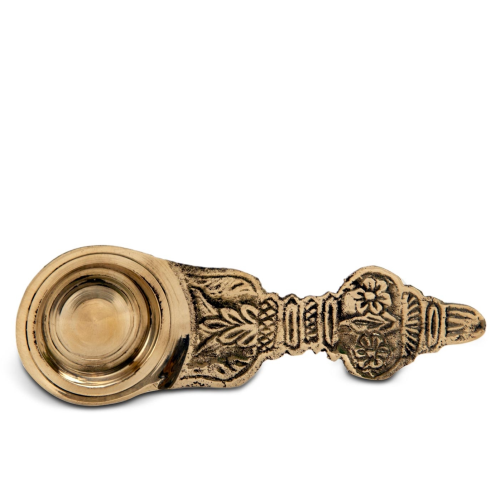 Sannidhi Arathrikam Spoon
The Arathrikam Spoon can be used by those having Sadhguru Sannidhi in their pooja.
This intricately designed Sannidhi copper spoon can be used for lightning the camphor while doing aarti. It is made of pure copper metal which has multiple health benefits according to Siddha and Ayurveda.

If you are interested in learning more about the Sadhguru Sannidhi, please visit
Note: This product is only for those who already have a Sadhguru Sannidhi.
Length: 11.5 mm

Breadth: 30 mm

Diameter of Circle: 35 mm

Weight: 0.049 Kg
While cleaning the copper spoon, please follow the Copper Cleaning Instructions:
(Link) - https://www.ishalife.com/in/copper-cleaning-instructions
If you are interested in learning more about the Sadhguru Sannidhi, please visit:
https://isha.sadhguru.org/in/en/events/special-events/sadhguru-sannidhi