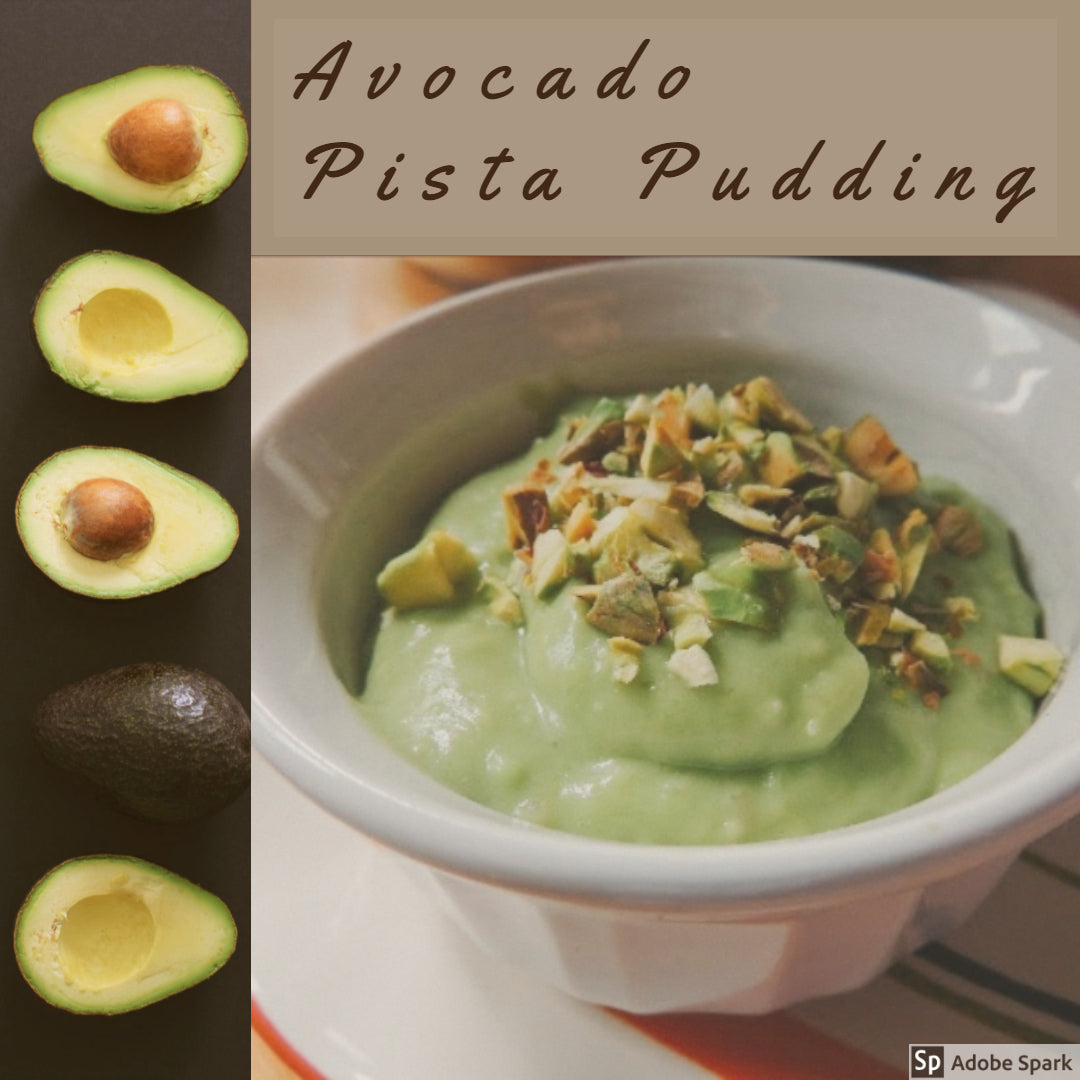 Avocado Pista Pudding
Ingredients: 
2 Ripe avocados (butter fruits) 
5 Tbsps. Pistachios - shelled 
2 Tbsps. Honey
1 Tbsp. Sweet lime (mosambi) juice 
1/2 tsp. Rose water 
Method:
Roughly chop the shelled pistachios. 
Cut the avocados in half, lengthwise. Pop the seeds out. Score the avocado flesh in a grid pattern. Scoop the flesh from the shell using a spoon.
Place the avocado flesh in a mixer; blend until it begins to cream.
Add honey, sweet lime juice and rose water; blend until smooth and creamy. Adjust the flavors as desired. (Honey provides nice, floral sweetness to the dish. The sweet lime offers a citrus note, but most importantly, prevents the avocado from darkening and turning brown; lemon and/or orange juices can be substituted for the sweet lime.)
Transfer the pudding into a separate bowl for mixing. Using a spatula or paddle spoon, fold in 3 tablespoons of the chopped pistachios. 
Spoon the mixture into serving cups. Garnish with the remaining 2 tablespoons of chopped pistachios. Optionally add whole mint leaves, a slice of orange with zest, or edible rose petals as garnish.
About Avocado 
Avocados are the "surprise" in this decadent pudding! It may sound odd at first, but the taste is nothing but creamy and delicious. Did you know…

Avocados are classified as a fruit, not a vegetable, belonging to the genus Persea in the Lauraceae family

Avocados are also called "Alligator Pears" because of their pear-like shape and green skin

Avocados contain all the 18 essential amino acids to provide the body with a complete protein, and they also contain fiber which helps the body to absorb protein. Avocados have the highest protein content of any fruit!

Avocados provide healthy fat that is good for your body, especially for your cardiovascular health

Just one avocado tree can produce between 150 and 500 avocados per year
 For more wholesome recipes from Isha, you can get it from https://ishalife.my/collections/books/products/a-taste-of-well-being
Reference from:
Isha Forest Flower Magazine (Volume 10) and
http://www.ishafoundation.org/us/blog/surprise-avocado-chocolate-pudding-recipe